Sybil James Ombudsperson for Students
Sybil James graduated from Rutgers College in 1988 and from the University of Pennsylvania Law School in 1991. Prior to working as the ombudsperson for students, she served as the assistant dean of students at the School of Law–Camden.
---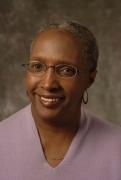 Gail Sylvester-Johnson Administrative Assistant
Gail Sylvester-Johnson has a degree in Criminal Justice and is presently pursuing a Masters in Social Work. Ms. Sylvester-Johnson brings many years of administrative experience to the Ombuds Office. Prior to assuming this position, she was the administrative assistant to the Senior Program Coordinator in the Department of Nutritional Sciences.
---